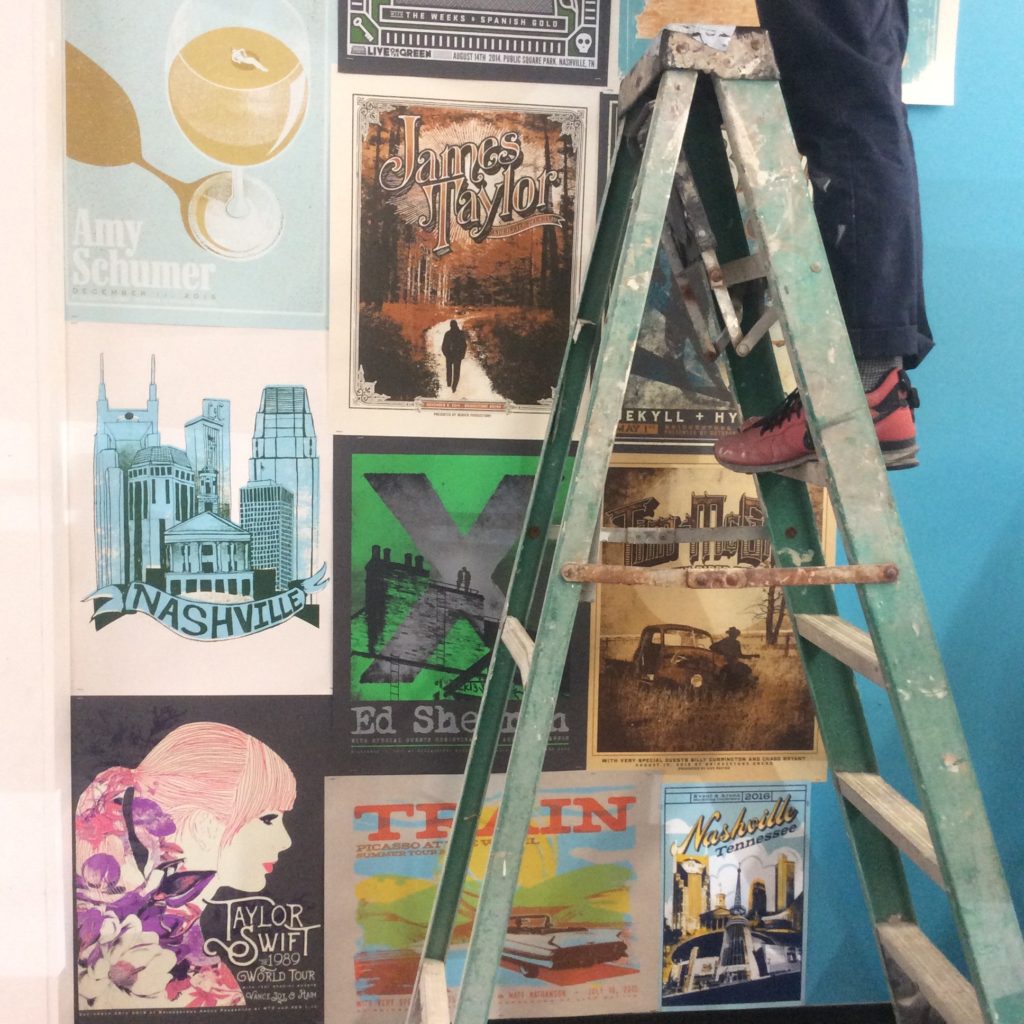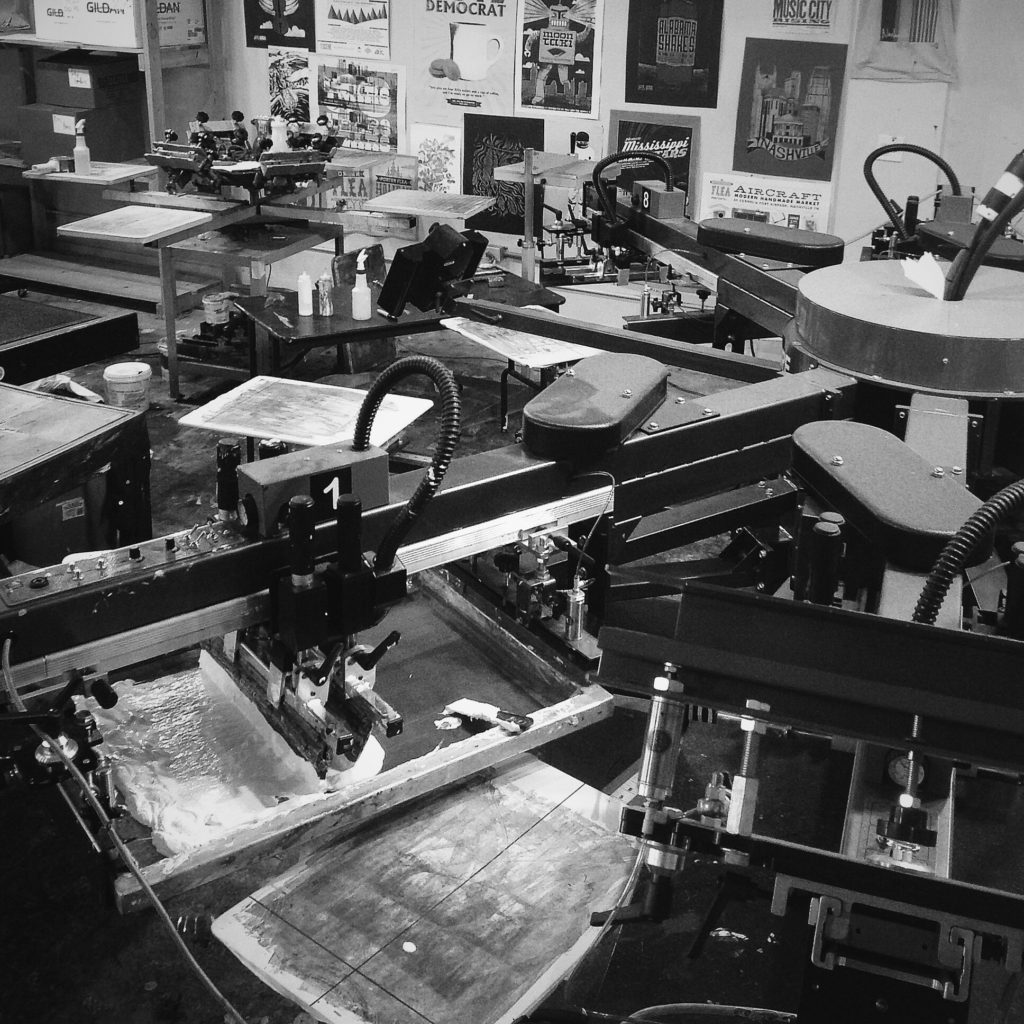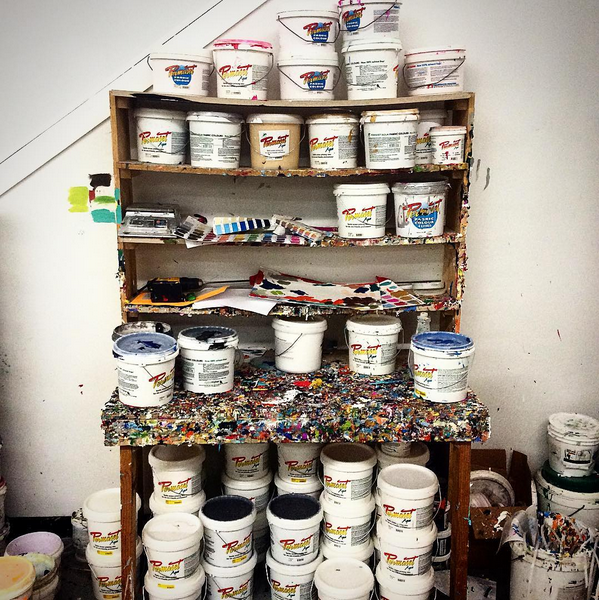 Are there any setup fees?
We have a screen fee of $15 per color, per print location (e.g. for a 2-color print on the front and 3-color print on the back, there will be 5 screen fees @ $15 each for a total of $75).
Are there quantities where I can save money?
We have price breaks at 36, 50, 100, 250, 500, and 1000+
Is there a minimum quantity for an order?
We require orders of at least 24 pieces per design.
Can I print the same design on different garments?
We do allow mixed sizes, styles, and colors. You can mix sizes however you like, but we need to print at least 12 per style.
I want to use different ink colors with the same design. Can I mix and match?
We have a $10 ink color change fee. These are charged per instance. We must print at least 24 shirts per ink color to do a color change.
Example: If you want to buy black and white shirts with the same artwork in different ink colors, you must purchase at least 24 of each color.
How soon can I get my shirts?
We have a standard 10-business day production turnaround. Shipping your order may add additional time. Turnaround starts when we confirm all order details and receive payment. Please notify us of your deadline as soon as possible when requesting a quote or placing an order.
If you need us to print your order in fewer than 10 business days, the following fees will be added to the pre-tax total.
5 Business days (+ shipping) = 10%
3 Business days (+ shipping) = 25%
2 Business days (+ shipping) = 50%
Shipping takes from 1-5 business days depending on your location and preferred shipping method.
What's the biggest print size I can have?
We print images up to 14" wide X 15.5″ tall.
Do you print on onesies or toddler tees?
We do print onesies and toddler tees. The maximum print area for infant/toddler garments is 5.5" X 7"
In what file format can I send my design?
We prefer artwork in PSD, AI, EPS, or PDF formats. In certain cases a large JPG (300+ DPI) will work. Please see our art guidelines for more information.
I don't have a larger file. Can you still use this one?
We will look at your artwork and other order specifications to determine if your artwork is acceptable. In some cases we are able to rework or recreate your artwork to meet our requirements. Design charges apply.
Can you print in full color?
Yes. We use Spot Color, CMYK, and/or Simulated Process printing.
I want my design to have a vintage look. Can you do that?
Yes, we have several techniques to achieve a "vintage" or "washed out" look. Please see some examples on our Styles & Techniques page
Can you print on the inside of the shirt below the tag?
We do offer inside tag printing. If your tag includes size specific information, you need to purchase at least 24 shirts per size.
How much do you charge for design?
We quote design on a per-project basis please email us at info@friendlyarctic.com with full details about your project and we'll get back to you with a quote.
Can you print a photograph?
Yes, with limitations. Visit the Styles & Techniques pageand read about 4 color process printing.
Can you deliver the shirts?
Yes! Local delivery starts at $24.
Can you print hats/business cards/stickers/signs?
We do not print business cards or signs, however we can provide stickers and hats, as well as other merchandise. Email info@friendlyarctic.com for more information.